Okay, I just assembled a new PC last week and EverQuest is loaded and sorta working.
My previous three PC's in the past year and a half (still in use) that I used for EverQuest were no slouches and ran rings around the benchmarks I threw against it. Yay me! But raiding has been getting terrible for me the past 6 months or so. After our guild enters the raid event instance, our illustrious raid leader goes over the strategy for this event once more (hey, we got memories like goldfish!), then finally gives us the good ole
"Win just one for the Gipper"
[1]
speech and then he starts the event . . .
where we then proceed to do our best impression of a Benny Hill skit run amok,
music included!
NAW, I KID!
As soon as the mobs become active and the raid starts, if we have to all pile REAL CLOSELY to the mob (Allakhazam starred [*] the other word we used for such close quarters piling), FRAPS drops down to a 1 and my screen starts stuttering and I'm all lagged out. Lately I've had to use Task Manager to end the EQ task when this happens because if I let it go to the end: the fight has already been over but my screen still has 6 to 8 minutes of stuttered lag to process before I'm caught up.
Yes, the Journal [Alt-J] was off, /loginterval 1 and other hoops didn't work until this past Monday, when we found out that I somehow had a lot of the Chat Combat category toggles set to Show. I'm an Enchanter, I don't need to know that! I clicked them all to Hide except I left the Event and Stun messages to Show and WOW, I could move! I could dance!
I'm still tweaking it, looking for our next raid events to be smooth sailing next Sunday. If so, I can give my friend back his 2560x1440 156Hz G-Sync monitor and I can see if my UHD monitor will do fine. It should because I have EQ in a smaller windowed version around the size of my friend's monitor.
Yeah, yeah, I'm rambling!
Anyways, I decided to install the EverQuest Item Collector (EQIC) on the new system. I clicked the software advert on the front page here, it took me to lucy.allakhazam.com which delivered a brand new shiny setup.exe file in my download directory. I click it to avoid the ticket, err, wrong campaign, that's buckling your seat belt. Anyways, it starts doing it's setup thing-a-ma-bob when it comes to this point: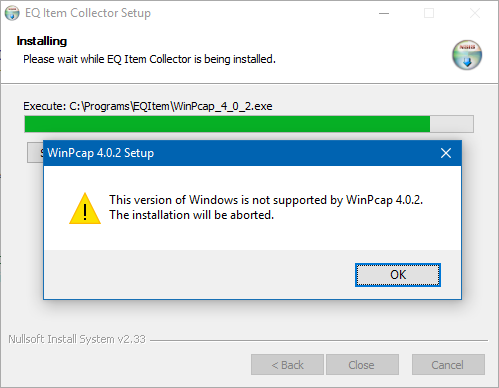 Huh.
EQIC installer says: I'm done, start me up!
I click the shortcut to start EQIC and then this error pops up:

Who would of thunk!
So . . . let's check my version, maybe the OEM Windows 10 Pro version I bought off of Amazon ain't legit, so I must . . . quit?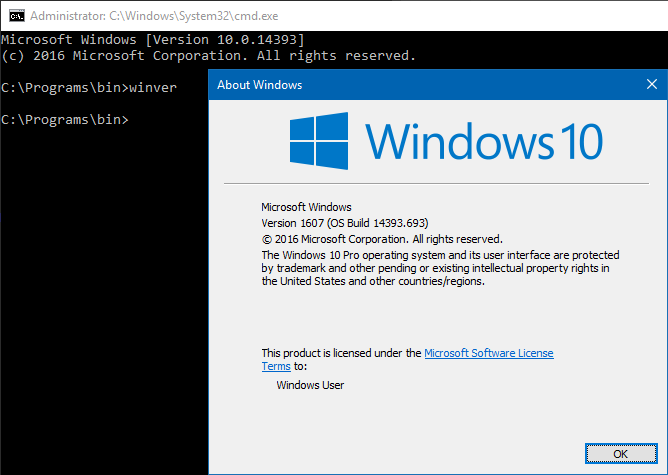 I saw that in a post below that mentioned going to win10pcap.org but I wasn't going to post this message in that one. The last message in that post was on 2016-11-30! I ain't no necro-poster, I ain't no . . . gold-digger?
Ix-nay that last statement!
Why can't the win10pcap.org's wpcap.dll installer be used by EQIC's setup.exe if the default WinPcap v4.0.2 fails to install?
You know, with Microsoft doing everything in it's powers to move everyone to Windows 10 and the EverQuest installs aren't from new users but from the shrinking cadre of dedicated players, the setup.exe should query the operating system version to see whether to try to install the older one or the new one.
At the very least, have EQIC setup pop up a message box after winpcap fails to say:
Pop-Up Message Box wrote:
Get the latest WinPcap at http://www.win10pcap.org
[1] Gipp died at the age of 25 of a streptococcal throat infection, days after leading Notre Dame to a win over Northwestern in his senior season, and is the subject of Knute Rockne's famous "Win just one for the Gipper" speech. In the 1940 film Knute Rockne, All American he was portrayed by Ronald Reagan.