ZAM
Wikibase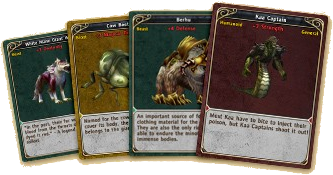 These are all Cards that can be added to your
Monster Compendium
.
Along with new stat attributes to Monster Cards,
The Elder Kingdoms
is adding 48 new cards bringing the total to over 800! That is 800 different ways to further customize and improve your character!
See also: Category:Card Attributes for cards in our wiki separated by the attribute they increase.
for a complete list of the 1000 cards available, with Attribute bonus and drop info, see Runes Database
This page last modified 2012-06-29 00:02:50.
There are 79 articles in this category.
Articles