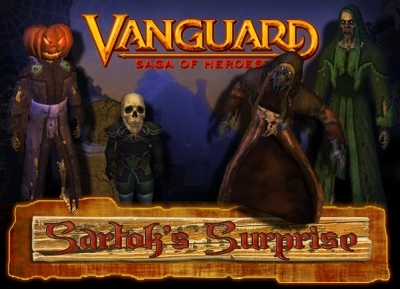 As the pale moon rises above the land, the sinister Necromancer Sartok has summoned a legion of vile and fearsome creations to do his bidding,and will soon unleash them upon the inhabitants of Telon. This event shall be known as Sartok's Surprise.
Wallpaper
Travellers beware as twelve
new terrifying undead raid encounters
will be roaming the lands seeking out adventurers both young and old. Any heroes able to best Sartok's abominable creatures shall be rewarded with
special wares
and
frightfully delightful goods
that work their magic by
altering one's appearance
.
While the weary rest between battles, special new quests await, and when completed, will offer great rewards, including a new pet companion or other mysterious and magical masks.
If you dare to take part in Sartok's Surprise, be on the look out for the following:
Three new raid encounters for all adventurers levels 20 and higher
Two new quests to test your spirit and blade
Twelve new illusion costumes
Masks that magically change one's appearance
A new pet to keep you company on those moonless nights
The delicious Sartok's Surprise candy — a special treat that bestows randomly chosen special effects for a limited time ... but only upon those brave enough to eat it.
Sartok's Surprise will only be around for a limited time! Join the festivities between Oct. 22, 2208 and Nov. 18, 2008, and reap the rewards of Sartok's Surprise!
| | |
| --- | --- |
| | This article refers to events, personae and activities only present in-game during the annual Sartok's Surprise Live Event, which comes to Vanguard each year sometime during the week of Halloween. For 2008 this event will go live on October 22nd and end November 18th. |
ZAM
Wikibase
This page last modified 2008-10-31 08:12:20.
There are 0 articles in this category.