Additional Information
Zone(s):
| | |
| --- | --- |
| | Mabangtah |
To find this Mob in-game, use /where Mabangtah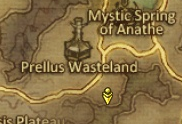 Mabangtah's Location
Mabangtah
, does not, apparently, believe the lines the
Balaur
have been feeding them, and believes that the Krall and the
Elyos
can work out a ceasefire and coexist peacefully.
Still, Mabangtah is a being of deep conflicts, and the fight in his soul against the controls of the Balaur is plain to see in the ghostly apparition of a Balaur's features superimposed over his own. He fights them, on his private battlefield, but who will win? Only Aion could say.
This page last modified 2009-11-23 16:45:49.