To find this Place in-game, use /where Sulfur Fortress
This Place is a quest hub in the Reshanta Quest Series.
Contains the entrance to the Sulfur Tree Nest.
If your faction owns the fort several NPCs will be available inside, including a Quartermaster that sells Morphing Recipes, a Warehouse Manager, and a Teleporter NPC. There will also be an NPC inside that offers repeatable quests in this area.
All Lower Layer fortresses have a Postern Gate which, while heavily guarded, is the best way to enter and assault the fortress.
Artifacts

| Artifact Name | Location | Effect |
| --- | --- | --- |
| Tenebrous Cloak | Island West and above the Fortress | |
| Abyssal Aegis | Island North and above the Fortress | |
| Daevic Efflux | Island East and above the Fortress | |
| Kerubic Metamorphosis | Island South and above the Fortress | Transforms all enemy players into Kerubs. |
| Abyssal Aura | Near East side of Fortress | |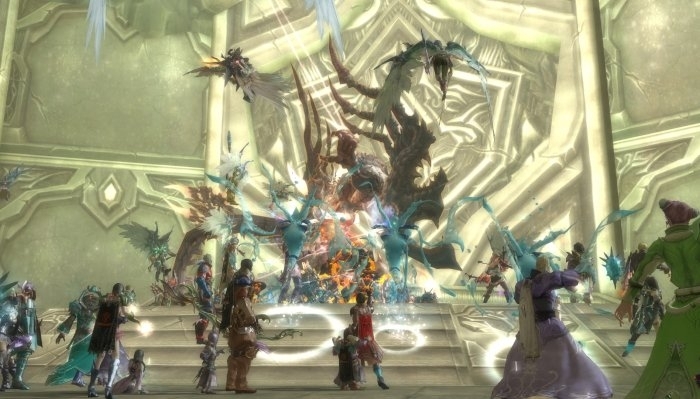 A multi-Legion assault on the Deity General of Sulfur Fortress
This fortress sells two unique categories of morph scrolls (other fortresses sell other unique morph method scrolls).
Morph method scrolls:
Betua log
Koa log
Ulmus log
Flux morphing scrolls for weapons, armor and accessories:
Flux
Greater flux
Major
Worthy major
Fine
Worthy fine
For details of flux levels see: Flux
This page last modified 2010-02-12 22:20:07.