This is just a placeholder so that the page name categorizes correctly, and also to provide you with our Other Resources links so that you can look for the info elsewhere since we don't have all of it.
There can be many reasons for this but the most likely is that, as we plow through a zone gathering data, sometimes it just gets to be too much and, rather than leave redlinks which don't tell you very much, we use this much-abbreviated format to just slap in whatever info we do have. Then we can come through and clean it up on our next pass through (or YOU can! This is a wiki, after all).
If you would like to help, the full template for this page type can be found at Template:RoM Quest along with a skeleton you can copy and paste into this page. Then all you have to do is fill in as much of the skeleton as you know.
Go to Tower of the Wailing Wind and find the Main Party's Journal. Look for the Dust-Covered Scroll just a bit past the first gargoyles. Down the steps, to the bend, right there behind a stone in one of those depressions at 26.8, 14.2
This is NOT the small book on the ground behind a white stone marker in the entrance tunnel, right after the lizards but just before the gargoyles. That is the Black Market Book.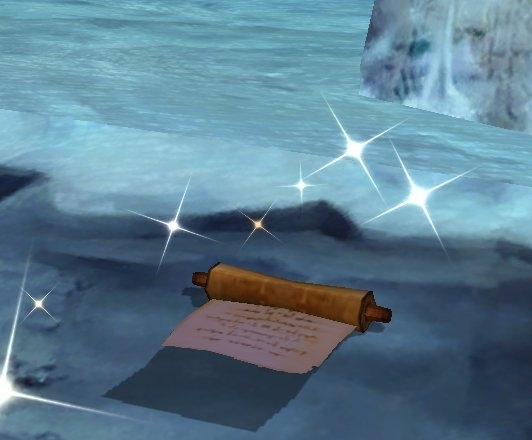 This page last modified 2010-04-21 23:03:27.