Vivox integrated voice chat is live with GU47. There is a lovely tutorial available by typing /voice_tutorial in your chat window.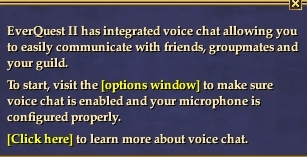 Voice Chat bar as it appears below your text chat window
Basic Voice Options
Advanced Voice Options
Voice Users displays all players in the channel you are in, and highlights their name when they speak.
See also
:
Vivox
This page last modified 2008-08-01 20:33:24.