This is just a placeholder so that the page name categorizes correctly, and also to provide you with our Other Resources links so that you can look for the info elsewhere since we don't have all of it.
There can be many reasons for this but the most likely is that, as we plow through a zone gathering data, sometimes it just gets to be too much and, rather than leave redlinks which don't tell you very much, we use this much-abbreviated format to just slap in whatever info we do have. Then we can come through and clean it up on our next pass through (or YOU can! This is a wiki, after all).
If you would like to help, the full template for this page type can be found at Template:RoM Quest along with a skeleton you can copy and paste into this page. Then all you have to do is fill in as much of the skeleton as you know.
Find Forsaken Abbey Documents (Ggl) in a Document Pile in the underground facility of the Forsaken Abbey.
Go down the stairs to the main room, then turn left, through the next room into the crypt. To the left of the sarcophagus is a Candlestick that is actually a switch sliding the coffin back to reveal a secret stairway down to the portal into , an instanced Elite zone.
The Document Pile is in the back-left corner of the same room you first find the Zombie Junk piles in. When you collect it a Tied-up Researcher (20 Elite) will spawn and attack you! Kill him and loot the body to find the documents.
| | |
| --- | --- |
| Timesaver! | This quest has steps, hunting areas, or mob targets in common with the following quest(s). |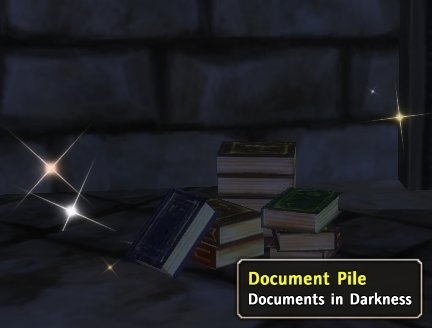 The Document Pile
This page last modified 2010-04-02 12:01:50.